Almost everyone should have faced the problem that your windows computer not recognizing iphone when connecting via usb.
This is likely due to the different ecosystem that Microsoft and Apple into and this can be easily fixed. And all you need to have is some patience.
Just follow my methods and now you will be able to transfer photo or files to your pc from your iphone and the problem is solved.
---
4 Best methods to fix computer not recognizing iphone
---
1. Copytrans
Your computer requires certain drivers in order to work with iphone or ipad recognized. And these drivers do not come with windows itself hence you have to manually install them because even itunes doesn't install some of the drivers.
That's where copytrans shine all you need to do is just download and use this app for transferring data from iPhone to your computer.
Also, you can install all necessary apple drivers without iTunes using this application.
Steps:
Simply download the copytrans from the download link below and install it in your pc.
Now you need to uninstall iTunes from your computer and to do that just open the copytrans app from the desktop and click uninstall button on the left bottom corner.
Restart your computer.
Again open the copytrans and select automatic install, it will automatically download the latest version of iTunes and all the required drivers.
Connect your iPhone or iPad to your computer using the USB cable.
Boom that's all now you can see the device on your computer file manager and fix computer not recognizing iPhone.
2. Update drivers
Apple and Microsoft updates their drivers frequently and some of the drivers are not might be able to install itself and hence you have to do it manually.
Update drivers automatically
Just open up the windows search bar and type device manager and click on it to open.
Now try to unplug and reconnect your USB cable to the iPhone and you can find Apple iPhone under Portable Devices in the device manager.
Right click on Apple iPhone and select Update driver and choose Search automatically for updated driver software.
Update drivers manually
To manually update the drivers just connect your iPhone to your computer.
Now open run window by pressing Windows key + R and copy and paste the following code and hit ok.
For 64 bit windows only
%ProgramFiles%\Common Files\Apple\Mobile Device Support\Drivers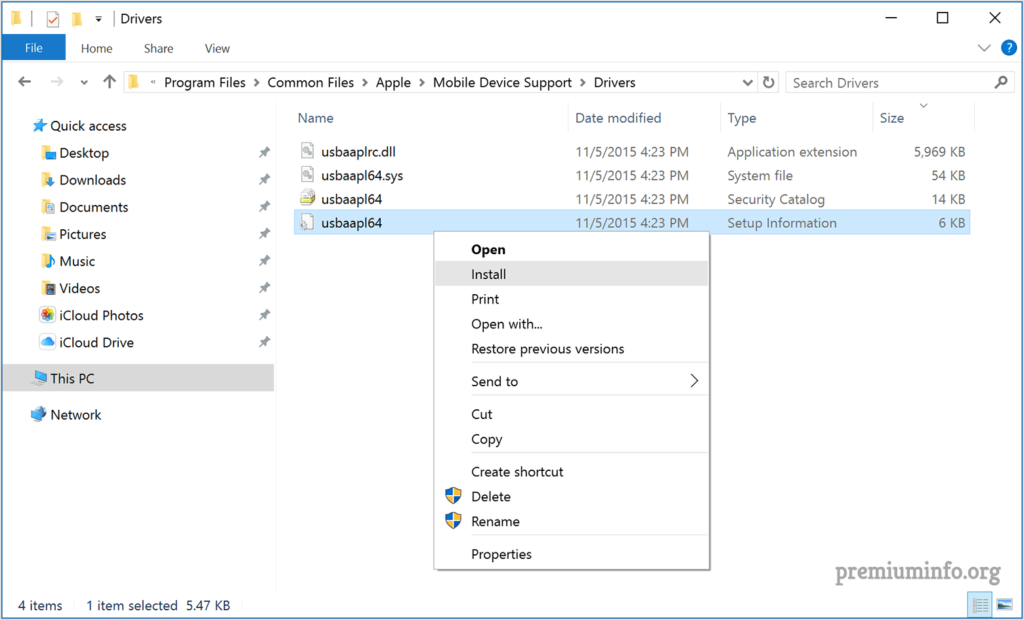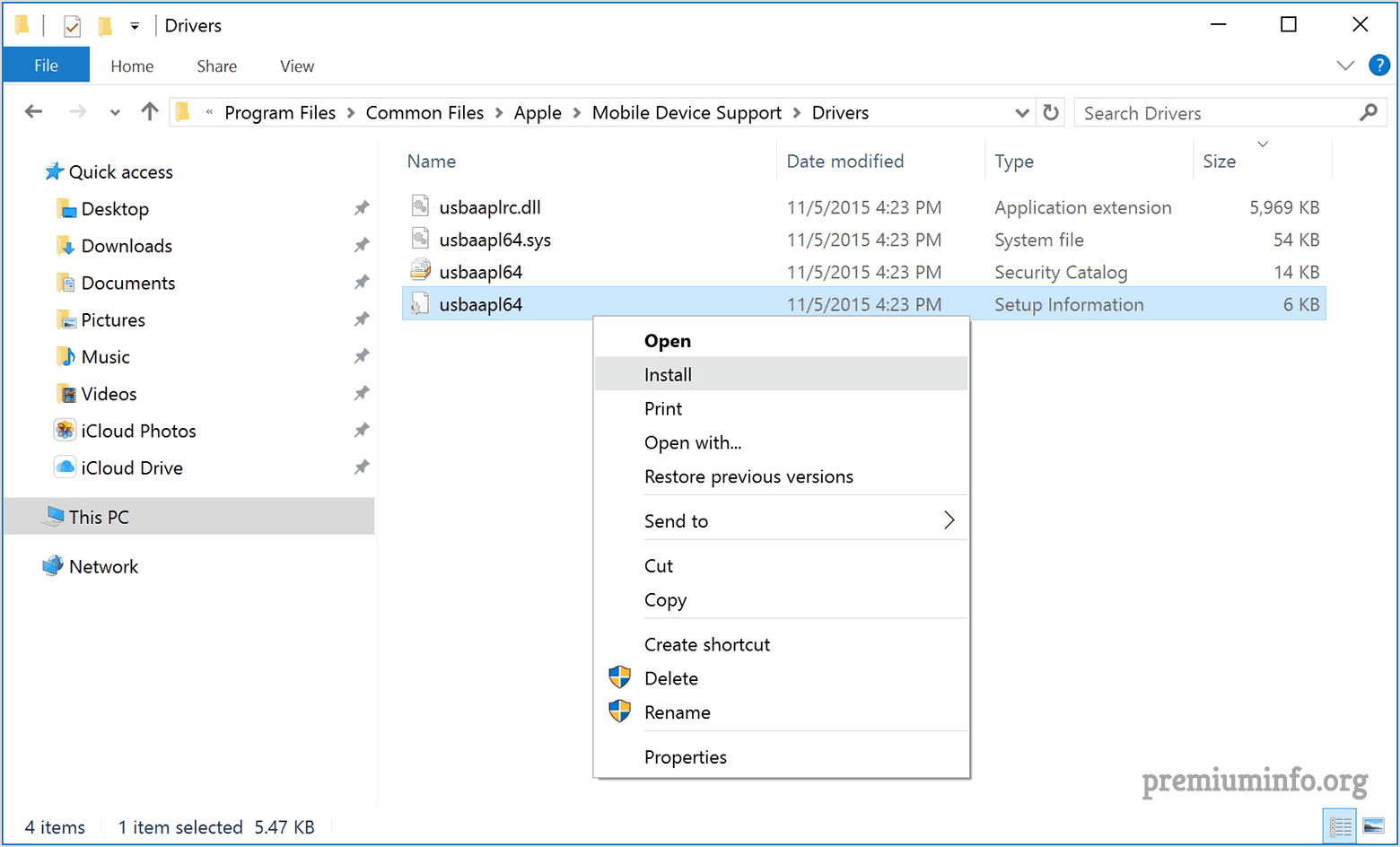 Now a window will pop up and from there you will find a file named usbaapl64.inf or usbaapl.inf. Install them by right click and select install.
Restart your computer and try to connect your iphone it might show up now.
Note: You need to install itunes first before
installing these drivers in order to work.
For 32 bit windows
Open up the file manager and navigate to C:\Program Files (x86)\Common Files\Apple\Mobile Device Support\Drivers.
There you will find usbaapl64.inf or usbaapl.inf for installation.
3. Check Apple Mobile Device Support
Apple mobile device support is software made by Apple to ensure that everything works properly.
First of all you have to make sure that apple mobile device support is installed on your computer because many people have no idea whether it's installed or not.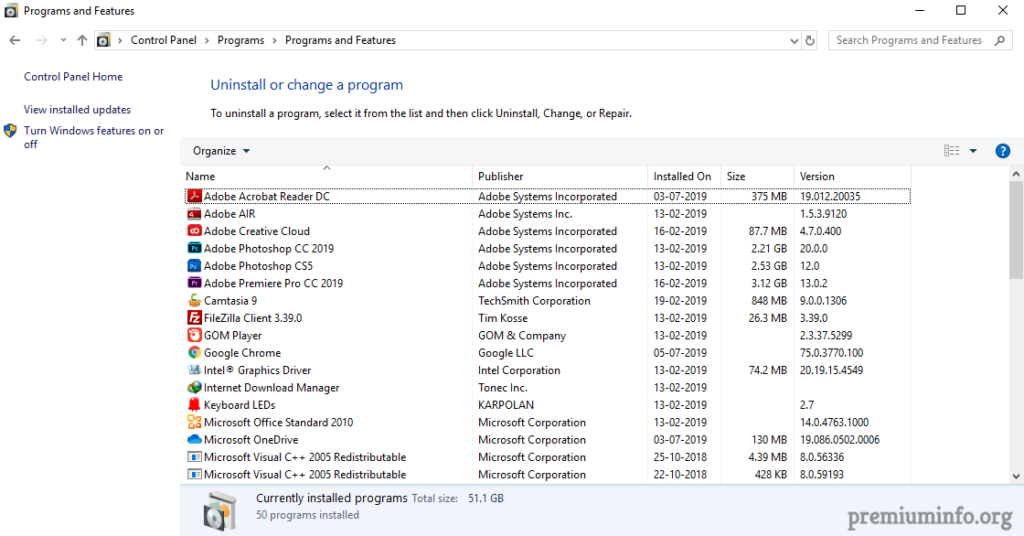 To check whether it's installed, simply type control panel in the windows search bar and open it. Then go to Programs -> Programs & Features and check for apple mobile device support in the list.
If it presents then no worries, if not you need to reinstall iTunes again.
To update Apple Device Mobile Device Driver
Connect your iPhone to your computer using usb cable.
Now open up Device Manager by searching it in windows search box.
Under Universal Serial Bus Controller you will find Apple Mobile Device USB Driver, just right click and select uninstall.
Then restart the computer and the new drivers will be automatically downloaded by the software and you can connect your iPhone to your pc now.
Also Read: 4 Best Methods to Fix Computer not recognizing iPhone
4. Trust this computer
Many people don't notice this window popping up on their iPhone while connecting to the computer.
Yes, Apple has serious security concerns and hence you have to manually tap Trust on the Apple device when it asks for permission.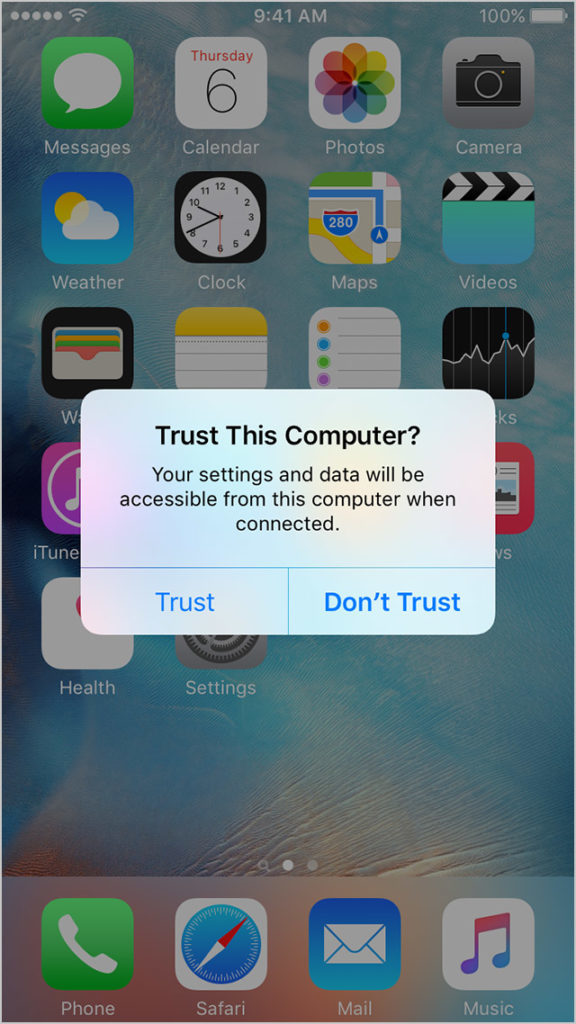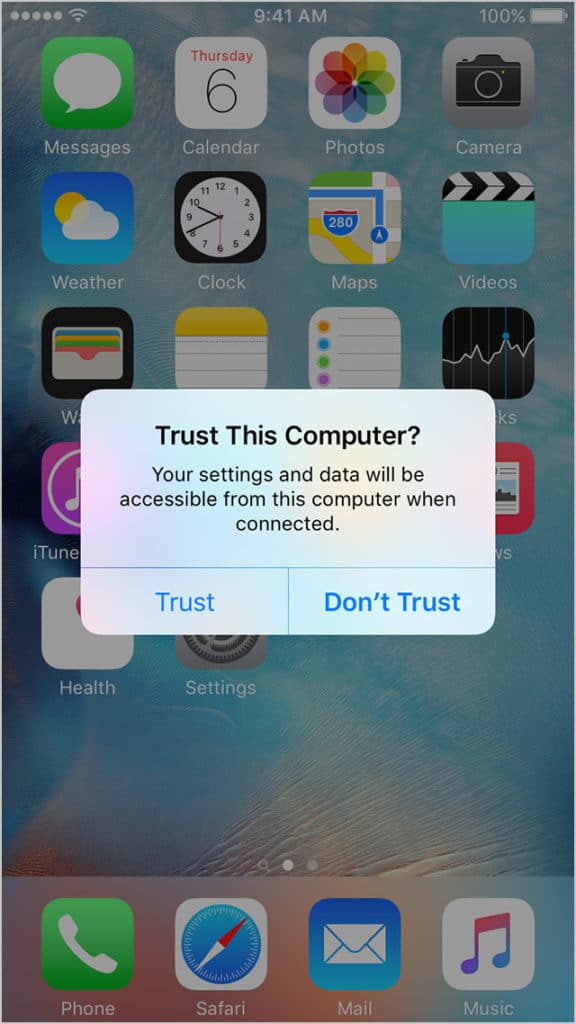 Connect your apple device to the computer.
Unlock your device using your passcode
It will ask trust this computer on your iPhone or any apple device you try to connect and tap on Trust.
Quick fixes
These are some common problems that people faces when connecting their iPhone to their computer. And these can be fixed easily.
Check the USB cable, USB port and charging port on the iPhone
There are still many people out there are unaware of this, because most of the time iPhones are not connecting to the computer due to the different cheap USB cable that they use.
Yes apple uses unique technology in the cabling also and some cheap lightning cables are only capable for charging. Hence you need to check with the original USB cable that comes in the box.
Also, you have to try all the different USB ports available on your pc since USB ports are tricky.
Check apple service is running
You can do that by opening up run windows by pressing Windows key + R and type in services.msc and hit ok.
It will open up a window showing all the currently running services. Try finding Apple Mobile Device is up and running. If it's not shown up then you have to reinstall iTunes and restart your pc.
Update iTunes
Launch iTunes from your computer and click Help on the menu bar.
Now select Check for updates and it will automatically checks and updates the iTunes for you, yes this is completely automatic process and you just need good internet connection and some patience.
Update windows
In some cases the windows has to be the one which causes a problem when connecting to the iPhone.
This might occur due to malware, virus or any other bad foreign matter present in your computer. To overcome this you have to check if there is any windows updates are pending or waiting to be installed.
And if you found one you need to update all of them and check if the computer recognizes your iPhone now.
Also Read: 3 Methods to Stop Discord from Opening on Startup
Wrapping up
I guess I've helped you guys to solve fix iPhone not recognizing on your computer. Using these simple methods and tricks could definitely help you connecting your iPhone or iPad or iPod touch to the computer.